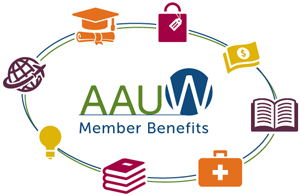 Our Membership Committee works to raise awareness of AAUW and our Branch, recruit prospective members, and engage and retain current members. But all of this is really done through the personal involvement of each of our members. Our history tells us that members sharing their passion about AAUW with someone else has helped to keep our numbers strong. The stronger we are, the more we can accomplish on behalf of women and girls. How can you share your passion?  Tell someone you know, or even someone you may have just met, about AAUW. Tell them about the parts of the organization that make you so passionate. Tell them about the mission, the research, the advocacy, the philanthropy, and why you are a member. Then invite them (better yet, bring them!) to a meeting, refer them to our website (sacramento-ca.aauw.net) and encourage them to join!
Since this is the beginning of a new year for the branch, we thought it would be helpful to provide information on the membership campaigns continuing this year. These campaigns provide individual and branch incentives to recruit new members.
Shape the Future Membership Campaign is a national program used to help branches recruit new members by offering reduced membership rates to new or lapsed (2 or more years) members who join on the spot during AAUW-sponsored activities that are open to the public. Branches build their member base, and for every two new members that join, branches earn one free membership, up to a maximum of five free memberships annually, to give to anyone eligible for membership, including: new members, renewing members, etc. Not only does the branch benefit, but more importantly, our new members benefit by saving 50% ($24.50) off their national dues.  This offer is available to members joining at any branch meeting or other AAUW sponsored public activities, including our Happy Hours!
Give a Grad a Gift: AAUW members can give a recent grad — a friend, daughter, son, granddaughter, grandson, niece, or nephew — a free AAUW National and state membership within two years of graduation, at no cost to you or them! Your grad will receive a one-year national and state membership — a $69 value. They can join a branch at any time but will be responsible for paying branch dues – only $16 for our branch, so why not consider gifting that for them if they are local? Please contact Membership Treasurer Sharon Anderson for application information.
Special graduate student rate: You can invite graduate students in our community to join AAUW and our branch at the special introductory National rate of $18.81 plus the cost of state dues ($10). We waive branch dues for these students. This special rate is for new members and is only effective for their first year of membership.
Finally, National will be recognizing members who recruit five or more new members in a year with a new recruiter pin.