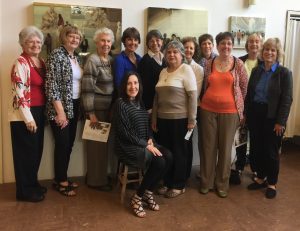 The Oct. 7 meeting of the Art and Architecture group was held in Oakland at the home and studio of artist Sherry Karver. Karver, who exhibits her work in major U.S. cities and who has donated a painting to the Crocker Art Museum, is an artist whose work "addresses urban living, webcams, and other forms of surveillance and deals with a multitude of issues concerning each of us today, such as loneliness and alienation in our fast paced society."
Her photo-based paintings and sculptures reference masses of people in a highly technological age. Karver begins her work with a black and white photograph taken in a public place, most notably Grand Central Station, Italy, or France. Text is added digitally, and then the photographic print is mounted on a 2 5/8" deep wood panel. With numerous oil glazes, Karver adds color and then coats the final surface with UV resin, a reflective surface that sometimes adds the viewer's own likeness as part of the work.
The studio, located in the former Rockridge Women's Club that Karver purchased many years ago, includes a mini gallery where many of her large painting are hung. Karver graciously explained her process, answered questions, and offered cookies during the visit.