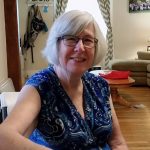 Joining AAUW allowed me to find like-minded friends when I moved to Sacramento. It also involved me in a community that supports women and girls in their efforts to advance their education and conduct critical research.
Our grant funds help make these activities possible. Find and support the ones that reflect your interest. For instance, if you wish to help with Title IX and women's equity in academics and employment, you can donate to the Legal Advocacy Fund. You can also support the Eleanor Roosevelt Fund or Fund #9110, which our Association uses where needed.
I would also like to encourage donating to our branch's 100th Anniversary Research and Projects Grant. We are well on our way to reaching our goal of $75,000 to fully fund this grant, but we need to keep in mind that we are not done until we reach that goal. When completed, our anniversary fund will provide one more resource for women from the United States and around the world to work to improve the lives of all women.
As we near the holiday season, it is time for us to get into the giving spirit. It would be a wonderful gift to contribute to these worthy grants and know that you are helping women and girls fulfill their dreams and advance research and knowledge around the world.