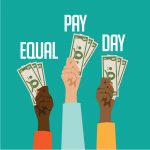 The AAUW Sacramento Branch Public Policy Committee had our first event of the branch year on Sept. 26 for National Voter Registration Day, where we teamed up with our California State University, Sacramento Chapter and held a voter registration drive on campus from 8 a.m. to 1 p.m. It was a great chance to bring our presence onto campus. We handed out 50 "It's My Vote" buttons and other materials, and a handful of people registered to vote. Most everyone we talked to said they were already registered to vote, so that was great news!
We held a social media campaign using the "It's My Vote because___" posters, where people were able to write in their own reason why voting was important to them and then take a picture with it. We then posted the photos on Instagram using AAUW National's hashtag #itsmyvote. We received lots of recognition and praise from AAUW National and AAUW California for our efforts.
Going forward, we are working on finalizing the committee, and we will be planning small advocacy events (i.e. letter writing and calling legislators) for the busy holiday season. Our next BIG event, which we are beginning to plan, is Equal Pay Day, on April 10, 2018.