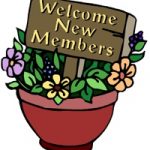 It's a great time to join AAUW. Not only are our programs outstanding and our mission important, but right now membership dues are a bargain. Membership dues paid between Jan. 1 and March 15 are half the cost for new or returning members. During this time National, State and branch dues are halved, bringing the cost to $54.50. New members who join at one of our public events between Jan. 1 and March 15 pay only $42.25. If you or anyone you know is considering membership, now is the time to make the commitment. For more information, please contact either Sharon or Linda at aauwsacmembership@gmail.com.
In It for Life? Make It Official
Empower future generations through your lifetime membership in AAUW! Show your commitment to advancing equity for women and girls. Contact us to upgrade your existing membership today and receive a letter of recognition, a certificate, and a lapel pin that you can wear proudly knowing that you've put your values into action to advance AAUW's mission. Lifetime membership in AAUW is a one-time, fully tax-deductible gift of $980. Become a life member today!