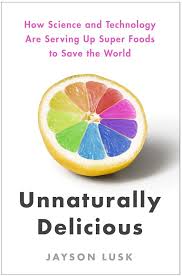 One of our interest groups started out with a name I have forgotten. Then it was called the History of the World, but a couple of years ago it morphed into Cultural History. Members are curious about the world and people and what makes us tick. They pick books to read during the year that seek out perspectives on different aspects of life. In March, they will be starting a new book, Unnaturally Delicious: How Science and Technology Are Serving Up Super Foods to Save the World by Jason Lusk.
Here is what Group Chair Rosa Lee Black has to say about this book: "Our fears about foods include chemical use, high obesity rates, climate change, water availability, rising health care costs and insufficient food to feed the world. There is optimism with scientists, entrepreneurs and progressive farmers developing software to help farmers increase yields with less water and geneticists creating new varieties in order to grow more with less. Nutrient-enhanced rice and sweet potatoes are helping to solve malnutrition in the developing world. New developments are improving animal welfare, and 3D foods are becoming available at the same time, so that foods are more affordable for all to enjoy. The world has new challenges that are changing the way we think about food."
The Cultural History interest group welcomes new members. The group meets the first Thursday of each month at 1 p.m. Call or email Rosa Lee Black (916) 453-0201 or rosaleeblack99@yahoo.com for more information about the group.