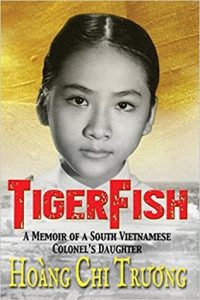 Come to listen and share Hoang Chi Truong's story of her family's escape during the fall of South Vietnam and their arrival to the US and adjustment to life in the Sacramento Valley. Their immigrant experience is one of hard work and family sacrifice to enable the younger children to thrive in the new country. Her mother was the family caretaker and her father worked several jobs to support their children and provide the necessities as they acclimated to a very different culture. The author feels that their story is much like that of today's immigrants.
She started writing her book, Tigerfish, to explain to her young daughter how her life had been so different.  By the time she had finished the memoir, she also had a son with whom to share her story.
Catch up on where her life has led since she finished the book and share lunch with other AAUW readers. This is an important annual meeting as it is election of officers for next year. Either click the orange "Register Now" button on the website to pay by credit card or click here to download and  mail the attached registration form to Dawn Boyd. Reservations are due March 13. See you there!