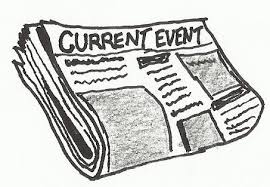 In the April newsletter, I asked members to give me their thoughts about our interest groups, i.e., whether they are meeting your needs and if you have any ideas for new ones. So far I have only received one response, from MaryGene Page, but it was an interesting one. She is a dual member with the CHAR (Citrus Heights-American River) branch, and they have been talking about starting a current events interest group. She wondered if we might want to start one, too. She also suggested that if neither branch has enough interested members to develop a group we might have a joint group serving members of both branches.
When I put these ideas forth to some of the board members, I was surprised to learn that in earlier days of the branch there had been joint groups with other branches, and such a group would certainly still be possible. I have been a member of this branch for almost 30 years, but this was the first I had heard about that practice!
A current events group, whether joint or not, is something that would take some real thought. There are so many issues of importance being debated now throughout the world, and it could be somewhat overwhelming to choose a few to study. When I told Nancy McCabe about the idea, she suggested that the group might look at some of our mission issues, like equal pay, personal safety on college campuses, reproductive choice, or workplace harassment. That makes sense, but I think the selection should be made by the women who start the group. Another concern is that there may be issues where members have different beliefs, and it would be important to ensure that all opinions are respectfully heard. That's where our Interest Group Ground Rules and Conflict Resolution Guidelines might come in handy.
So what do you all think about this idea? I sent info about the idea to our current interest group chairs, and Joan Hammond responded that she thought it was a good idea along the lines of the Great Decision groups, which are always full. They mostly study global issues, so maybe this group could study U.S. issues. Please let me know what you think about current event topics in general, the prospect of a joint group with CHAR, and other ideas you have that you think would improve our interest groups.