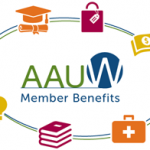 This month we are pleased to announce that the Branch was awarded three free AAUW National memberships for our successful implementation of the Shape the Future program. Thank you to all new members who joined us at a Branch event and to all members who encouraged others to join our Branch this year.
The three free memberships have been awarded to three women who have significantly contributed their time and expertise to our Branch over the last few years. The recipients of the 2018-19 free National memberships are:
Dawn Boyd – Branch Reservation Coordinator
Deborah Dunn – Branch Program Co-Director and coordinator for the Art and Architecture interest group
Tiffany Ardisana James – Branch Secretary and grant writer for Tech Trek
Congratulations and thank you, ladies!
New members who have joined us in the last few months are Joyce Humphrey, Kasmira Kit, Joy Reichard, Christine Random, Katie Sween, Linda Dixon, Susan Hanks, Kolieka Seigle, Eilis Yazdani, Maria Barajas, and Vivian Khem. Welcome!