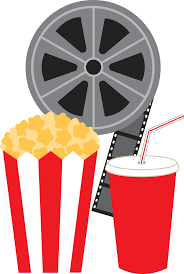 Film Fans is a group that I started maybe 10 years ago. On the third Tuesday of each month, our members meet at the Tower Theater or some other theater and see a movie together. Then those who have the time get together nearby afterward for lunch or a snack and talk about the movie and whatever else comes up. It's a very friendly group, and we always have a lot of laughs.
To choose the film we will see, I come up with several suggestions that I think the group will enjoy, and those who plan to attend vote on them. Members can suggest another film if they like, providing that it is showing at about the same time we usually meet and at a theater that isn't too far from the center of the county. We like independent movies and foreign films a lot, so we often go to the Tower, where most of those movies are shown. In October an especially large group of us – 12 – went to see "Colette," a biopic about the rather scandalous French writer. We all really liked it and had a great discussion afterward. Other recent films that we have enjoyed are "The Wife" and "Crazy Rich Asians."
If you are interested in getting on the email list for the group, send me an email: capeabody@comcast.net. We have around 60 people on the list, but most of them don't come frequently. We have a core group of about 12 members who attend often. You are welcome to join us whenever you can.