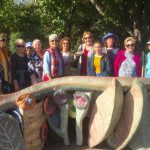 Art & Architecture is perhaps our most popular interest group. Over 60 women are members, although it is the type of group where members are not expected to come every time, so each activity will have much fewer participants. They meet September through June on the first Friday morning of the month, and they explore a variety of activities related to art and architecture, including some that are located out of town. One group member plans each activity and is the contact person for that day. The group goes to lunch afterward somewhere in the area where they have met.
The activities during this program year have included an architectural tour of the Crocker Museum, the Sacred Heart Holiday Home Tour, and an exhibit of women artists at the Haggin Museum in Stockton. This month the group will take a walk in the Sacramento midtown area to check out some of the galleries there.
Deborah Dunn is the chair of this group. For more information about the group, contact her at deborahdunn80@gmail.com.