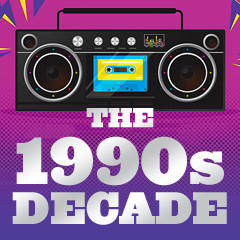 In the last decade of the 20th Century, Sacramento AAUW continued to be vibrant and active. Plus ca change, plus c'est la meme chose (the more things change, the more they stay the same). While the music, fashions, and day-to-day life of AAUW members may have undergone many changes, the issues with which they grappled are familiar to members today. Membership was somewhat smaller but still robust throughout the '90s.
The Sacramento Branch was quite politically active and took positions on various propositions regarding reproductive choice, affirmative action, and welfare reform, to name a few. In addition, committees listed on Board meeting agendas in the '90s included Educational Foundation Programs, Legal Advocacy, International Relations, Women's Issues, Corporate Relations, Individual Liberties, and Educational Equity. AAUW Sacramento was one of 22 sponsors and marched and rallied on the Capitol Steps in the We Are United for Choice" celebration of the 19th anniversary of Roe v. Wade.
In the '90s, branch programs included a Symposium on Environmental Pollution, a Symposium on Health Care, and a Symposium on Choices for Tomorrow's Women. Other programs of special note in the '90s included Clean Energy for the Future; Health Care for Women and Children; Women and Self Protection: Prevention Through Awareness; Media Images of Women: How Far Have They Come?; Do Our Schools Short-change Girls?; and Women in Higher Education. The branch also considered issues such as illegal immigration and the problem of homelessness.
The branch was an active participant in Sacramento Reads, described as California's largest outdoor literacy festival, which was held in Crocker Park. We were one of many sponsors of The Women's Peace Project, which began in 1987 and continued through the '90s. Members also participated in Take Back the Night marches.
The '90s saw a shift in the program for the Author's Luncheon. In 1994, Mary Mackey, Ph.D. (writer in residence at CSUS and poet, novelist, screenwriter, and co-founder of the Feminist Writers' Guild) and Nina Boyd, Ph.D. (psychologist, former director of the counseling center at CSUS, and author of "Changing Women, Changing Work") were the featured speakers. A special event called A Night to Celebrate Writing featured the work of student writers who participated in creative writing workshops sponsored by AAUW Sacramento.
What we were doing in the '90s makes one breathless. And what we were doing then, we are in many ways still doing today. While much changes, it seems the issues do not.