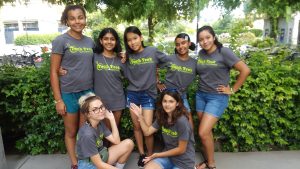 Meet Sacramento AAUW's 2019 Tech Trek students and celebrate the science and technology program's 21st anniversary at the Tech Trek Showcase and Brunch on Saturday, Oct. 19.
The free event will be held from 9:45 a.m. to noon in the American River Room at Rancho Cordova City Hall, 2729 Prospect Park Drive, Rancho Cordova.
Thanks to the generosity of Sacramento AAUW members, our branch was able to send our allotted six girls to the weeklong camp at UC Davis in July. Their days were filled with core classes in 3D-math, computer coding, anatomy and genetics. They met with members of the chemistry department, and learned about polymers and gasses. The veterinary hospital was a huge hit, as always, and this year the students also visited the university's Jan Shrem and Maria Manetti Shrem Museum of Art.
AAUW California member Marie Wolbach founded Tech Trek in 1998 with the help of an AAUW Community Action Grant. The camps, held on college campuses, are designed to provide middle school girls with hands-on problem-solving activities and encounters with women role models in science, technology, engineering and math.
Susan Wheeler, co-director of the camp at UC Davis, will be the guest speaker at the brunch, and this year's trekkers will share their camp experiences.
The event will include a drawing for gift cards. Members interested in donating gift cards for businesses such as Barnes & Noble, iTunes, Amazon, movie theaters, Target, etc., are asked to send the cards to Jo Reiken, branch Tech Trek director, by Oct. 10.
Reservations for the showcase and brunch are due by Monday, Oct. 14. Sign up for free online via EventBrite here, or call or email Cathy Locke.