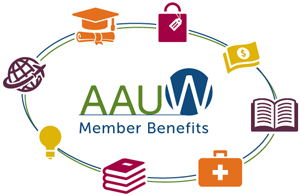 $69.50! What a bargain for an initial one-year membership in AAUW. If you have friends or family who believe that equity and a level playing field for all the women and girls in our world is a priority we should enforce, please encourage them to join AAUW. Our national organization has established a program, Shape the Future, to encourage new members and members who are returning after two years or more of non-membership to join or rejoin for $69.50. The only requirement in addition to our basic requirement of accepting anyone with an associate (or equivalent) degree or higher from a regionally accredited institution is that the prospective member signs up at a public meeting. All of our monthly branch meetings qualify.
With this campaign, new members pay just 50 percent of the national dues rate when they join AAUW at a public event. (Branches also earn one free national membership to give away for every two newly recruited members, with a maximum of three free memberships annually. These free memberships can be awarded to existing members who have performed "above and beyond" the normal expectations, members who may have financial difficulties, etc.)
In case you have forgotten, please remember: AAUW national dues are almost entirely tax-deductible! Regular AAUW national dues are $59, of which $56 is tax-deductible; $3 of the national dues payment cannot be deducted because it supports the AAUW Action Fund's section 501(c)(4) Lobby Corps and election-related activities. Discounted dues through Shape the Future are only $29.50, of which $26.50 is tax-deductible; $3 of the national dues payment is not tax-deductible. (In case you're wondering, AAUW national life membership is $1,180 and is fully tax-deductible. Student dues are $18.81, of which $16.81 is tax-deductible and $2 is not.) Please do all you can to encourage new members to join or members who have been gone for two years or more to rejoin. Our mighty 200 member-strong branch needs to grow in membership in order to finish the battle for true gender equity. Please encourage any friends who have been members in the past to rejoin and friends who ought to belong to this esteemed, longtime organization, to attend a meeting and join our efforts.
AAUW MEMBERSHIP COMMITTEE
Thank you to the following members who have officially joined our Branch's Membership Committee.
Back-up at monthly Branch meetings: Sharon Anderson, Charmen Goehring, Ruth Hines and Barbara Smith
New Member Introductions and Activities: Barbara Smith, Anna Storey and Gloria Yost
Building Existing Members' Involvement and Connectivity: Barbara Smith
Recruitment Brainstorming: Charmen Goehring, Cathy Locke and Gloria Yost
Membership Procedures/Records Updating, Streamlining: Sharon Anderson
Sunshine Chair: Jane Cooley.
Many of these members are also on the Board in other capacities. In order to really enhance membership, I would really appreciate additional branch members to volunteer to be on the section that focuses on building existing members' involvement and connectivity. I hope to begin meeting with the different subgroups in the coming months to develop and implement plans in all the areas. I need your help!