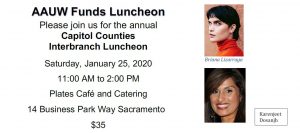 One of AAUW's most enduring contributions to the effort to help women break through barriers in research is through AAUW Funds. Each year, the Sacramento region's InterBranch Council, composed of 7 branches, puts on a luncheon featuring two speakers from among the Funds recipients in Northern California. These women always grab our attention with their unique and interesting projects, their perspectives and their expertise.
Please print the flyer and mail your check to Shirley Zeff per directions on the flyer as soon as possible.

The deadline

 is Jan. 17!
Branches bring items for a silent auction, which then adds to the monies available for future grants and fellowships. This is an excellent way to participate in this crucial AAUW effort.
Saturday, January 25
11 a.m. – 2 p.m.
Plates Café and Catering
14 Business Park Way, Sacramento