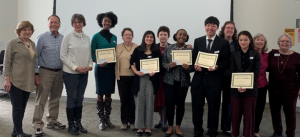 The 13th Annual Speech Trek Contest will be held on
Saturday, Feb. 15
from 9 a.m. to noon
at Cosumnes River College, Winn Room 150.
This building is located off Bruceville Road.
Parking is $2. Students from the Elk Grove Unified High School District will be participating in our public speaking contest.
The topic this year is:
ARE MEN AND WOMEN TRULY EQUAL TODAY? OR ARE THE SUFFRAGISTS OF 1920 STILL SUFFERING IN 2020? 
 We hope to see you there! Sign up for free on Eventbrite here.