Evening Board Games Seeking More Members
The Evening Board Games group meets on the last Friday of the month at 7 p.m. They play a variety of games including Mexican Train, Rummikub, Qwirkle, and occasionally a card game such as Hand and Foot. Currently, they are meeting in East Sacramento. Please contact Ruth Werner at (916) 442-3270 or renrewr@hotmail.com for more information
Calling All AAUW Gourmet Groups
Are there gourmet groups out there we don't know about? Are you interested in starting a gourmet group? Does your group have full AAUW membership? Call Interest Group Coordinator Becky Anton at 916-996-6518.
We know there are some groups that are no longer sanctioned AAUW groups. For various reasons some members have chosen not to continue AAUW membership, but they have bonded well enough that they want to continue on their own. We hope that in time, that will change and they will be in full AAUW membership. If a gourmet group happens to lose a couple, we hope they will reach out to the coordinator to welcome a new couple. I would like to see Gourmet Groups listed along with the other interest groups so they don't get lost.
Here are a couple of Gourmet Groups in full membership that we would like to tell you about:
Diana Squire shared about her experience in a Gourmet Group: In the early 1980s we moved to Sacramento and I joined the Sacramento Branch of AAUW. I went to the yearly Fall Festival and signed up for the Gourmet Group. The Branch provided booklets with suggested menus for dinners – from appetizers through dessert. The suggested menus were from different countries so groups could try foods from around the world.
I was contacted by Marty Cox and she hosted a meeting. Four couples came to the meeting and we set a date for our first dinner. The hostess set the menu, provided the recipes and assigned each couple one of the courses to bring to the dinner. The hostess provided the main course and beverages (coffee, tea, wine….). Initially, in our group, each couple kept track of their expenses for their portion of the meal and at the end of the evening, the cost for the entire meal was split between everyone. This normally meant providing the host compensation for the extra expenses for the wine, and often the main course was the most expensive part of the dinner. However, after 30+ years of dinners we now just take turns and don't keep track of the expenses – it all evens out in the end.
Little did I know when I joined the group that I would discover lifelong friends. Our first group of five couples fell to four couples after one had to drop out. We filled the opening, but after a year or so they too had to leave the group. Finally, we found a couple that made the group complete. We're all about the same age and celebrating 50 years of marriage with our spouses. Sadly, we lost one spouse along the way, so now we are nine at the table. We've shared many a meal, watched our children grow up, and are enjoying our grandchildren. We've shared meals in our homes, in youth hostels, in campgrounds, at lighthouses, in Unionville, Nevada, and at B&Bs. We continue trying new foods and get together at least five times a year.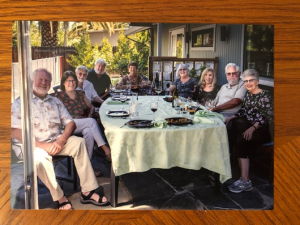 Our Gourmet Group – Marty and Ken Cox, Jean and Bob Bonar, Sabina and Wolfgang von Sydow, Diana and Frank Squire, Kathy Leahy. Currently, four members are AAUW members and the fifth will be rejoining AAUW, the Lodi Chapter, this spring.
Meet another current AAUW Gourmet Group that started about that same time with the menus prepared by a Committee of several members. This group has changed many times over the years and likes to reminisce about previous couples and the menus, too. They meet every couple of months or so when they can agree on a date when they are not all traveling somewhere. The hostess is rotated and plans the menu and sends the recipes out to the four couples. The hostess prepares the entrée and the beverages, and we all enjoy discovering new wines and recipes.
I joined this group when a couple moved and I answered an e-mail that they were looking for another couple. I have found this group always has good conversations about their travels, are interested in current events, and attend most of the other AAUW meetings and programs and firmly support the mission of AAUW.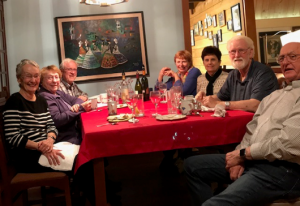 This Gourmet Group includes Hedda and Tom Smithson, Shari and Gary Beck, Nancy Lawrence, and Becky and Ed Anton. All are AAUW members.
If you want to start a Gourmet Group, here are guidelines. Becky is available to help.