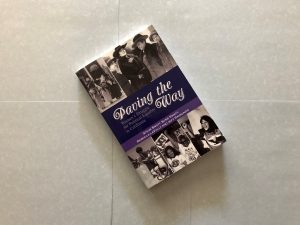 Women were allowed to vote in California's statewide elections in 1911, nine years before the 19th Amendment granted women voting rights nationwide. Since then, women's progress toward political equality has come in fits and starts.
This year's Authors Luncheon speakers, Steve and Susie Swatt, along with co-authors Rebecca LaVally and Jeff Raimundo, have chronicled women's achievements in and out of elected office in "Paving the Way: Women's Struggle for Political Equality in California."
The luncheon will be held from 11:30 a.m. to 2:30 p.m. Saturday, April 25, at Plates Café, 14 Business Parkway, No. 149, off Fruitridge Road. The election of branch officers for 2020-21 will also take place at this meeting.
"Paving the Way," published in 2019 by Berkeley Public Policy Press, was written with an eye toward this year's 100th anniversary of national women's suffrage,
"We tell the stories of dozens of women—many of them unheralded and lost to history – who transformed California since the Gold Rush – from early conservation efforts and the epic state suffrage battle to political pioneers and more contemporary women who are breaking barriers," said Steve Swatt, the book's lead author and a former political reporter with KCRA-TV in Sacramento.
His wife, Susie, a former AAUW Sacramento member, spent nearly 40 years as a staff member in the California Legislature and was a special assistant for the Fair Political Practices Commission. LaVally is a former editor in the California Senate's public policy research office, and a former bureau chief for United Press International and Gannett News Service. Raimundo worked as a political and public relations consultant, following a career as a reporter and editor with The Sacramento Bee in Sacramento and Washington, D.C.
"The Golden State's women and girls are anything but monolithic," writes Greg Lucas, California State Librarian, in his forward to "Paving the Way". "Women historically have disagreed over such fundamental issues as the inevitability of female suffrage, the appropriateness of Roe v. Wade and notions of feminism itself. This book respects that diversity, individually and ideologically. Even so, it finds that the women who made the biggest differences in shaping California's political landscape have had some qualities in common. Almost invariably, they were determined, resilient, and fierce."
Please join us for this popular annual event as we continue to mark the 100th anniversary of our branch as well as women's suffrage. This year's luncheon entrée choices feature traditional Plates Café favorites: herb-roasted chicken, vegetable lasagna, or stuffed and seasoned portabello mushroom. To offset steep labor cost increases this year, we have opted for buffet-style service. Volunteers in the branch will be available to provide table service for members and guests who have mobility issues.
You may register for the Authors Luncheon on Eventbrite and pay with a credit card, or, if you prefer to pay by check, download the registration form by clicking here and mail it with your check to Cathy Locke (see address in branch directory). Reservations are due by Tuesday, April 14.