Election 2020 CA Ballot Proposition Forum By Gloria Yost
Wednesday, October 14, 2020
6:30pm on Zoom
AAUW Sacramento and AAUW Citrus-Heights American River are jointly hosting a forum on the pros and cons of the ballot propositions in the November 3 election. Join us as Professor Mary Beth Moylan and a panel of McGeorge School of Law students review the current propositions on the November ballot. Professor Moylan is the Associate Dean for Experiential Learning and a Professor in the Global Lawyering Skills ("GLS") program at McGeorge School of Law.
Professor Moylan will be joined by her students who will present key points about each of the 12 propositions on the upcoming ballot in November. We will take as much time as possible for questions. Questions may be submitted before the meeting and for any unanswered questions, we will get answers out to participants shortly after the event.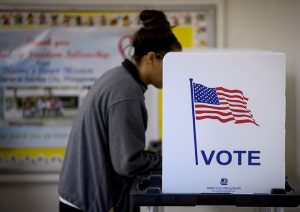 Please register for this virtual meeting on the Eventbrite link below. You will be sent a Zoom link two days before the forum.
https://www.eventbrite.com/e/election-2020-ca-ballot-proposition-forum-tickets-121988022459
To see a list of the 12 propositions, follow this link.