President's Message By Angela Scarlett
Dear Members,
As I sit here at my computer, Karen Burley, our intrepid Communications Director, reminded me that we had our monthly newsletter coming up.  I would be remiss in not mentioning that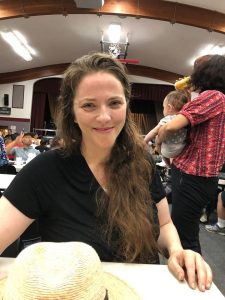 we have an incredibly important election nine days from now (it's Oct. 25, 2020, as I write this). If you are paying attention to the news like I am, you know the Senate is pushing through Amy Coney Barrett to replace Ruth Bader Ginsberg. This rushed appointment may rightly concern some folks, as it has the potential to impact this election's outcome if contested, health care, women's access to birth control and abortion services, the presence of guns in school, and LGBTQ rights, to name a few.
At nearly 48, I stand among our younger members.  I know how easy it can be to let specific societal issues slide as they no longer directly impact my life. I recently had the opportunity to attend a branch public policy committee meeting, helmed by Arlene Cullum.  We reviewed the upcoming slate of potential policy priorities for our state branch. Hearing other members support women and girls' welfare and status not necessarily represented by our branch's demographics inspired me and gave me hope.  Holding space for others who aren't necessarily at the AAUW table advances the three pillars of AAUW California's policy mission: Achieving Economic Security for All Women, Supporting a Strong System of High-quality Public Education and Guaranteeing Equality, Individual Rights, and Social Justice for a Diverse and Inclusive Society. If you are interested in learning more, please reach out to Arlene.
Our Oct. 14, program, co-sponsored with AAUW CHAR, was well attended. The students from the McGeorge School of Law presented each ballot initiative's pros and cons.  As expected, many AAUW members had penetrating questions about the initiatives on the ballot. The presentation helped inform my decisions when I voted this past week (yay, early voting!). I also appreciate the opportunity to deepen our relationship with CHAR.
In November, we will visit a topic we had to abandon when the COVID-19 pandemic caused our initial shelter-in-place position: the California Women's Well-Being Index presented by the California Budget & Policy Center (https://calbudgetcenter.org/resources/womens-well-being-index/).  This event will be held on Zoom on Nov. 14, at 10 a.m. I encourage everyone to come and reach out to a fellow member or friend to go and listen to the program. Perhaps you could even have a post-meeting chat and coffee?
As always, please feel free to reach out to me via phone or email. My information is in our branch directory.
Warm Regards,
Angela Scarlett, AAUW Sacramento Branch President