Speech Trek Gears Up for February Contest By Ann Arneill
Speech Trek is now in full swing with our fall busy season. We work with all nine campuses in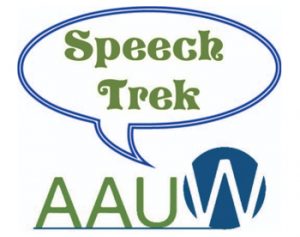 the Elk Grove Unified High School District participating in our public speaking contest. Now is the time to recruit students to participate by distributing our promotional materials, and students have started to sign up.
We have scheduled our workshops, which Shari Beck, Kathleen Deaver and Ann Arneill will be conducting. At these workshops, we inform students about the contest rules, present the topic, give them resources for researching the topic and provide public speaking tips. Once the students who decide to participate have completed their speech drafts, we will give them feedback on their speeches.
The topic this year is "Has social media helped or hindered the breaking down of barriers for women and girls?"  The contest will be held virtually this year on Feb. 20, 2021. Look for the EventBrite invitation in January to get the Zoom link.