Tech Trek Camp Goes Virtual! By Charmen Goehring
Overview: 2021 Virtual Camp Model
Core Education Components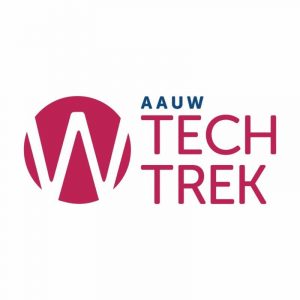 Morning project-based robotics Core Class led by trained AAUW members.
After-lunch Inspiration Hour featuring speakers chosen for excellence.
Interactive afternoon hands-on or interactive Workshops chosen for excellence.
Additional resources and nighttime events for social activities, college/financial aid information, STEM speakers, etc.
Camp Delivery Program
Three to four 2021 Virtual Camps scheduled between mid-June and early August based on camper enrollment (likely dates 6/21-25, 7/12-16, 7/26-30, and/or 8/2-6).
Robotics kits to be distributed from several California locations.
 Zoom platform with registration, passwords and breakout rooms.
Camp Staff & Volunteer Opportunities
 A combination of interested branch members, camp directors and teachers, dorm moms, counselors and other volunteers.
 High staff to camper ratio – 1:3.
Several roles will be available – both in the virtual environment and on the ground; members can serve in one or more camps and training will be provided.
Currently, AAUW CA is working on building capacity for more than 1,000 girls to attend over the three to four camps. We will still need volunteers from our branch as well as others to make Tech Trek 2021 as successful as possible. More information will be shared as we receive it. The nominations process for campers will begin in January.
We would also like to thank each one of our members who made a contribution to our Tech Trek program this past year! With your support, we can show girls what a career in STEM looks like and encourage her along the way!