AAUW Sacramento Annual Authors Event By Kim Rutledge
Saturday, April 10, 2021
12:30 – 2 p.m. via Zoom
Featuring historical fiction writer
Jillian Cantor
Please join us as we celebrate our annual Authors Event to hear Jillian Cantor speak. Cantor, a
best-selling author of 11 books for teens and adults, is known for her works of historical fiction, including "The Lost Letter" and "In Another Time".  In her latest book,  "Half Life", Cantor reimagines the life of Marie Curie, using a parallel structure to create two alternative timelines –one that mirrors her real life, and one that explores the consequences for Marie and for science if she had made a different choice.
Cantor has a BA in English from Penn State University and an MFA from the University of Arizona. She will be speaking to us via zoom from her home in Arizona, where she currently resides with her husband and two sons.
April is also the month for our annual meeting, and we will be electing new officers during the business portion of our gathering. The business meeting will begin at 12:30 p.m.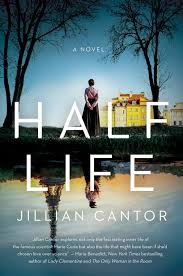 Cantor's latest book, "Half Life", is scheduled for release by Harper Perennial on March 23.  In partnership with local women-owned bookstores, we are encouraging members to order and purchase "Half Life" from them, thus supporting both local small businesses and AAUW's mission.  In exchange, these bookstores are publicizing our Authors Event.    
             Underground Books:  2814 35th St., Sacramento, CA   95817
                        916-737-3333          gwest@underground-books.com 
             Ruby's Books:  724 Sutter St., Folsom, CA  95630
                        916-790-8760          INFO@RUBYSFOLSOM.COM
            Face in a Book:  4359 Town Center Blvd., El Dorado Hills, CA  95762
                       916-941-9401
            Crawford's Books:  5301 Freeport Blvd., #200, Sacramento, CA  95822
                       916-731-8001          sue@crawfordbooks.net
This meeting is open to the public so please invite friends, family and prospective members  who can join AAUW at this event and receive a discount as well as a bonus of three extra months on their 2021-2022 membership.
Register with EventBrite:   https://www.eventbrite.com/e/142636576841. The Zoom link will be sent out two days before the event.