1970s scholarship recipient never forgot AAUW's support By Cathy Locke
Each year, AAUW Sacramento awards scholarships to women, congratulating them on their achievements and wishing them continued success, but typically we lose track of them after they graduate. Rarely do we learn how life plays out for them.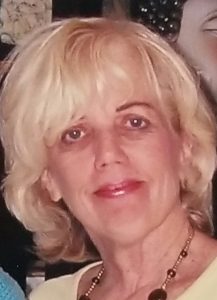 We were gratified in 2019 when former scholarship recipient Charlene Rasmussen contacted the branch and donated $4,000 to the scholarship fund in acknowledgement of the support she had received 45 years earlier. We have awarded scholarships in her name the past two years.
Rasmussen died April 7 in Coronado, Calif., where she had lived since moving from Sacramento in 2017. She was 78. Her family said she suffered an aortic tear after enjoying a day full of activities. In May, the AAUW Sacramento Scholarship Fund received a $6,000 donation from Scott Rasmussen, a principal partner of Sacramento-based Ravel Rasmussen Properties, in memory of his mother. He said the family plans to make annual contributions to AAUW scholarships that will be given in her name.
In the early 1970s, Charlene Rasmussen was a single mother raising two boys. She worked at Sears in Florin Mall and was studying government at California State University, Sacramento, in the evenings.
As a student in 1972, she was asked by Sacramento Planning Commissioner Phil Simpson and one of her professors at CSUS to examine the city's building code and zoning ordinance to determine their effect on preservation of Sacramento's historic buildings.  Her report, "Factors Affecting Historical Structures in the City of Sacramento," has been cited as a catalyst for the city's historic preservation movement. It dovetailed with AAUW Sacramento's historic preservation efforts, including the branch's 1973 publication of "Vanishing Victorians: A Guide to the Historic Homes of Sacramento."
In 1974, based on her undergraduate work and with the support of an AAUW scholarship, Rasmussen was admitted to the graduate program in urban and regional planning at the University of Sheffield in England.
"She was always very grateful for what you (AAUW) did for us," Scott Rasmussen said.
He and his brother, Brian — ages 14 and 9 at the time — spent the year with their mother in England, and were able to tour England and France with her. It was a life-changing experience for all three, Scott Rasmussen said.
"It profoundly affected my entire outlook … I have a world view that I would not have had," he said.
The family returned to Sacramento, and Charlene Rasmussen went to work as a budget analyst in the Sacramento County Executive's Office. She retired in 2003.
Scott Rasmussen said his mother had a tremendous respect for government and people who devote their careers to public service.  She kept up on current events in retirement, and also proved to be an astute investor in the real estate and stock markets, her son said.
The family requests that any donations in Charlene Rasmussen's memory be made to her favorite charities: Sacramento State University; the University of Sheffield; and AAUW Sacramento.