AAUW Program year ends with honors, speeches, hope for our city – By Kim Rutledge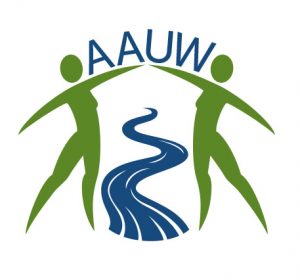 The final program of the AAUW Sacramento Branch was held on Saturday, May 15 on Zoom. The meeting started with the installation of new officers for the 2021-22 branch year, led by Gloria Yost. Marty McKnew and Donna Holmes were sworn in as membership co-directors, and Carole Cline was sworn in as secretary.
Liz Jordan presented President Angela Scarlett with her past-presidents' pin, even though she will serve as president for another year. Liz also gave us a fascinating history of the pin's origins and design. Other past presidents in the meeting shared about what the pin means to them.
Outgoing Membership Co-director Bonnie Pennix honored the branch's 50-year members: Dorie Bracchi, Susan McLearan, Elaine Moody, Pat Stilwell and Gloria Yost. Each 50-year member received a certificate, which was mailed to their home.
Speech Trek winner Saher Haidari delivered her winning speech and impressed us all with her intelligence and poise, even over Zoom.
Funds Director Charmen Goehring presented this year's branch named gift honorees: Karen Burley, Sharon Anderson, Marty McKnew, Arlene Cullum and Pat Winkle.
Our keynote speaker was Sacramento City Councilmember Katie Valenzuela. She engaged our members in a discussion about her priorities for the city, including addressing housing and homelessness issues. She also spoke about the importance of having more women in leadership roles at all levels of government.
Looking ahead to the 2021-22 program year, please save the following dates for the Fall 2021 programs: Saturday, Sept. 11; Saturday, Oct. 23; Saturday, Nov. 13; and Saturday, Dec. 11. More program details will come in the next newsletter. If you are interested in helping plan next year's programs, please email Kim Rutledge – you will find her contact information in the Sacramento Branch Membership Directory.