Funds Update By Charmen Goehring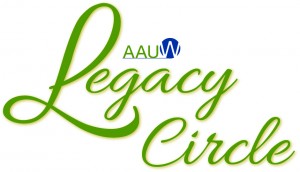 Do you remember the statewide Legacy Circle contest that ends June 30? AAUW Sacramento is close to winning!! If you have been thinking about remembering AAUW in your estate, this would be a great time to make that commitment and join the Legacy Circle! Call me if you have questions, or find a brochure on aauw.org.
Between January and May, our branch has contributed more than $2,700 to the AAUW Funds. Thank you to each of you who has made a donation. The majority of those monies went to the Greatest Needs Fund, which allows AAUW the maximum in flexibility to address needs as they arise, as well as fund the majority of our signature projects and staff. Please consider a gift to AAUW's Greatest Needs Fund today!