AAUW Funds By Charmen Goehring
October was a month full of AAUW Funds activities. Members in California enjoyed two online Funds events, previously the Funds Luncheons, each of which highlighted many CA-based recipients of AAUW grants and fellowships.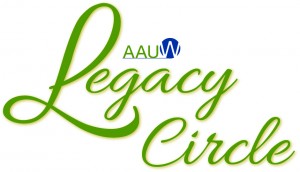 Their topics of study were diverse and fascinating! While we again missed the in-person opportunity to see friends and meet the recipients, dozens of members who might not otherwise have attended a lunch in the past were able to participate on Zoom. It is always inspiring to see how our contributions have provided support for these young women, some of whom might change the world! There will be one more opportunity to enjoy presentations by a few of our wonderful recipients during the final event on Nov. 7. You can register to attend at www.aauw-ca.org.
Many thanks to those members who consistently send in donations to the AAUW Funds throughout the year via the AAUW website. This is an easy and convenient way to provide funding for our wonderful organization and its programs!
As always, I wish to encourage you to consider honoring your passion for AAUW by joining the Legacy Circle. The Legacy Circle is composed of dedicated AAUW members who have included AAUW in their estates in order to ensure the organization is healthy and able to help women and girls far into the future. If you have been a member of AAUW for 30 years or more, you are passionate about AAUW. Why not take the simple step of joining the Legacy Circle? You can join online at www.aauw.org or contact Charmen for a brochure.
AAUW Sacramento is close to becoming the CA branch with the most Legacy Circle members!!
Living Our Mission of Equity Book Discussion By Charmen Goehring
We hope you will join us in a monthly equity conversation looking at our own biases, and what actions we can take to attract diversity to our branch and become better people in the process. Each month, we read a section of our selected book and then meet to discuss what we have learned, along with exploring other issues related to race and equity. We meet the second Wednesday of each month from 7 to 8 p.m. on Zoom. This is a joint CHAR/Sacramento activity.
The Zoom meeting code is 737 420 3780, or you can join using this link:  https://us02web.zoom.us/j/7374203780
We will be discussing the second half of "You Are Your Best Thing" on Nov. 10 at 7 p.m. If you have questions and to RSVP, please email Charmen. Charmen's contact information can be found in the branch Membership Directory.