CALLING ALL BRIDGE PLAYERS By Margot Leidig
COME JOIN CHAR MARATHON BRIDGE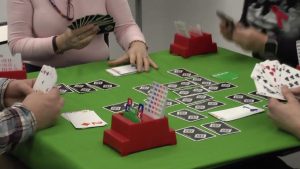 Signups are now being accepted for next season's play. This is a joint Sacramento Branch-CHAR interest group.
Both old and new teams are welcome.  You and your partner become a team playing one game a month from September through April on a date agreed upon by the respective teams.
18 hands are played each month using party bridge scoring.
Monthly scores are compiled with winners announced at the end-of-year luncheon.
No partner? Contact us and we will match you up with one.
Registration is a $25.00 donation for AAUW Scholarships or Tech Trek and end-of- year prizes. Instructions and play schedule will be mailed to each player in August.
Each player should mail a $25.00 check, payable to AAUW CHAR, to Pat Boyd at 7801 Greenridge Way, Fair Oaks, CA 95628 by July 15. Please write your partner's name on the memo line of your check. AAUW dues must be current. Please provide your street address and email address.
Questions?? Contact Pat Boyd: kinderteach38@att.net , 916-390-9907, or  Margot Leidig: MHLeidig@aol.com , 916-599-8744.