Member News by Gloria Yost
KIM RUTLEDGE APPOINTED AS DEPUTY DIRECTOR OF LEGISLATION AND COMMUNICATIONS AT CA DEPARTMENT OF REHABILITATION (DOR)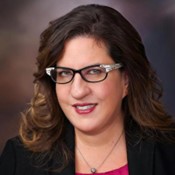 Governor Gavin Newsom appointed Kim Rutledge, our AAUW Sacramento Branch Program Director, to the position of Deputy Director of Legislation and Communications at the California Department of Rehabilitation.  Rutledge previously held multiple roles at the California Department of Social Services between 2016 and 2022, including Adult Protective Services Program Liaison and Chief of the Adult Programs Policy and Quality Assurance Branch.  In her new position, she oversees all communications and legislation impacting a wide range of programs and services that promote employment and independent living for people with disabilities.
We're so proud Kim.
JENNIFER KREBSBACH IS ON THE MOVE
Jennifer was our speaker at the November meeting last fall, and shared information about her participation in the eight-week AAUW National Social Change Ambassador Program and how she incorporated National's research into her thesis for her MA in education-gender equity studies at CSUS.  She is about to have an article published about this research.
AFGHAN REFUGEES LOVE LISA HOWARD
Lisa Howard continues to work on resettling Afghan refugee families with a focus on sewing machines.  With the mentorship of a neighbor, she has started basic servicing of donated machines, ensuring that they are in good operating condition for the new owner.  Seventeen have been distributed to date and the request list grows with each new family she meets.  One appreciative recipient has even sewn Lisa a dress.  Afghans in the community appreciate the support from Lisa and her team.
Click here for a list of items needed by the Afghan refugees. Contact Lisa Howard for drop-off information.