16th Annual Speech Trek Contest Celebrates Its Winner By Ann Arneill
On Saturday, Feb. 18, 2023, the Speech Trek Committee held its Speech Trek contest at Cosumnes River College, its first in-person contest after two years of virtual contests, with great success.  An audience listened to three high school students from three Elk Grove Unified School District high schools speak on the topic:  "How can communities, organizations and citizens of all ages help protect and expand voting rights?"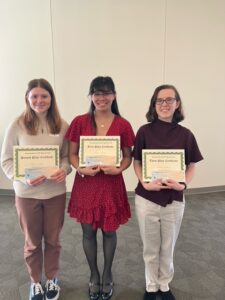 First-place winner was Lauren Secreto, a senior at Laguna Creek High School, receiving $500.  Second-place winner Maren DeMille, a junior from Pleasant Grove High School, received $300.  The third-place winner was Lauren Richie, a junior from Cosumnes Oaks High School, who received $200.
The Sacramento Branch's winning speaker is entered in the AAUW CA Speech Trek Semi-Finals.  If Lauren Secreto makes it into the top three, she will be invited to compete in the finals for $1,500.  She will also present her speech at the May branch meeting — something to look forward to because she is a very dynamic speaker.
Virginia Kidd, Ph.D., communications professor emeritus at CSUS, and our very own members Liz Jordan and Linda Patterson judged the event.  AAUW member Kathleen Deaver served as timekeeper for the contest.  Thanks to branch member Karen Burley for technical assistance and Gloria Yost and Cathy Locke, who also helped with the contest.