Living Our Mission of Equity By Charmen Goehring
We hope you will join us in a monthly equity conversation looking at our own biases and what actions we can take to attract diversity to our branch and become better people in the process. Each month, we read a section of our selected book then meet to discuss what we have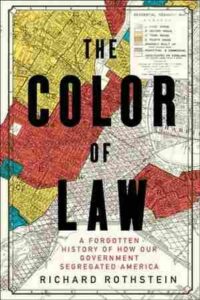 learned, along with exploring other issues related to race and equity. We generally meet the first Wednesday of each month from 7 to 8 p.m. on Zoom. This book group is a joint AAUW Sacramento and CHAR event and open to all.
The Zoom meeting code is 737 420 3780 or you can join using this link: https://us02web.zoom.us/j/7374203780
We will be discussing chapters 1-4 of our latest book, "The Color of Law" by Richard Rothstein, at 7 p.m. on March 1. If you have questions and to RSVP, please email Charmen at charminme@yahoo.com.
Equity Book List
The joint AAUW Sacramento/CHAR Equity book group has been reading and learning together for more than two years now. We have read thought provoking, frustrating and poignant research and stories around the topic of race, inclusion, equity and systems in America that continue to be problematic. We would like to share our list and encourage you to take yourself on an equity journey as well. Confronting our own biases and understanding how privilege affects our lives is a first step toward a more just and equitable branch as well as world.
Waking Up White – Debby Irving
How To Be An Anti-Racist –  Ibram Kendi
The Sum of Us: What Racism Costs Everyone and How We Can Prosper Together – Heather McGee (one of our faves)
Caste– Isabel Wilkerson
Sister Outsider – Audre Lorde
Minor Feelings: An Asian American Reckoning – Cathy Park Hong
You Are Your Best Thing – edited by Tarana Burke and Brene Brown
So You Want To Talk About Race – Ijeoma Oluo
Feminism is For Everybody – belle hooks
The Color of Law – Richard Rothstein