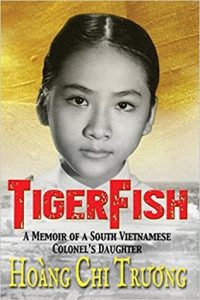 Hoang Chi Truong was a 13 year old daughter of a South Vietnamese Colonel when South Vietnam fell in 1975. Her life of relative privilege and comfort ended and her family became refugees. They fled to Guam and finally to the United States where they were not wanted by 60 percent of Americans. They spent three months in a second refugee camp in San Diego before they were 'sponsored' in Wyoming but actually were exploited. A church and refugee services in Fresno helped them to begin a new life in California.
She started writing her book, 'Tigerfish,' to share with her children how different her life had been from theirs. With a lot of hard work her family has been able to earn their piece of the American Dream. With refugees being a hot topic, her understanding from life experience is timely.
If you saw the Ken Burns series on the war in Vietnam, you may have seen her being interviewed by Scott Syphax on Studio Sacramento or read the Bee article by Stephen Magagnini, profiling her life experience and her book Tigerfish. Her presentation is certain to be one of our best. Her book is available on Amazon , Avid Reader and Blumoon & Vinyl.
You can register online here:
Or, if you wish to pay by credit card. or via the pdf here if you wish to pay by check