AAUW CA presents
SPEECH TREK
Saturday, February 20, 2021
EGUSD Students Grades 9-12
9:00 a.m. – 12 p.m.
2020 Winners (left to right) Sophia Yang, first place, Franklin HS; Noura Mahmoud, 2nd place, Pleasant Grove HS, Prayer Noyogiere, 3rd place, Cosumnes Oaks HS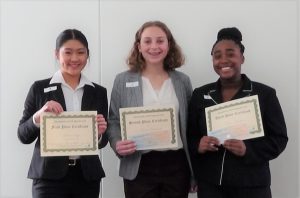 WIN CASH & PRIZES!  $500 for First Place; $300 for 2nd Place; $200 for3rd Place; $75 for honorable mention
IMPORTANT DATES!
Application due January 11, 2021
Rough Drafts due January 25, 2021
You must contact one of the AAUW members below at the high school you attend, before you can enter the contest. Also if you need more information please contact us.
Shari Beck

: gsbeck@surewest.net  H (916) 451-5143  C (916) 806-0180  Cosumnes Oaks, Florin, Monterey Trail
Ann Arneill

: ann@arneill.com  H (916) 668-7371    C (916) 529-5602     

Elk Grove, Pleasant Grove, Franklin
Kathleen Deave

r: ksdeaver15@gmail.com  H (916) 579-5084      C (916) 897-7662 

Laguna Creek, Pleasant Grove, Sheldon
Print out Workshop Information below.