AAUW CA presents
SPEECH TREK
Saturday, February 15, 2020
EGUSD Students Grades 9-12
9:00 a.m. – 12 p.m.
Cosumnes River College, Winn Center 150
Parking off Bruceville, $2 for every car.  Los Rios CCD makes no exceptions.
IMPORTANT DATES!
Application due January 10, 2020
Rough Drafts due January 17, 2020
WIN CASH & PRIZES!  $500 for First Place; $300 for 2nd Place; $200 for 3rd Place; $75 for honorable mention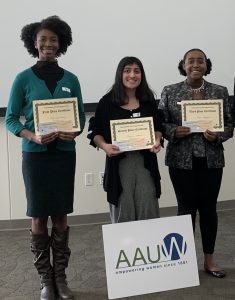 Student Application and Parent/Guardian Permission 2019-20
You must contact one of the persons below before you can enter the contest. Also if you need more information please contact us.
Shari Beck: gsbeck@surewest.net  H (916) 451-5143  C (916) 806-0180 
Ann Arneill: ann@arneill.com or 916-668-7371