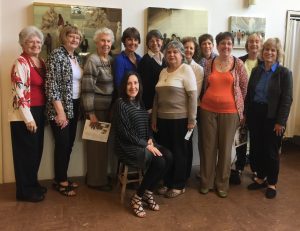 On March 3, Art and Architecture Interest Group members were treated to a special tour of "Out Our Way," an exhibit at the new Manetti Shrem Museum of Art on the UC Davis campus. The exhibit is an inaugural exhibition for the Manetti Shrem, which opened in November 2016. The exhibit presents 240 painting, sculptures, drawings, and prints that explore the development of the UC Davis Department of Art, founded in 1958.
Founding Chair Richard L. Nelson built what would become an internationally recognized art department and creative community during his tenure from 1952 to 1970. Nelson hired 12 of the artists whose works are shown in the exhibition: Wayne Thiebaud, Robert Arneson, William T. Wiley, Roy De Forest, Roland Petersen, Manuel Neri, Ralph Johnson, Ruth Horsting, Daniel Shapiro, Rio Giambruni, Jane Garritson, and John Baxter.
Our tour was made even more special by our guide, museum Deputy Director Randy Roberts, Ph.D. Roberts was heavily involved in the design and construction phase of the museum and shared her unique perspective about the building architecture and the way the art is displayed. Roberts usually does not lead tour groups, but our Art and Architecture Interest Group tour coordinator Alice Hammel was able to arrange for Roberts to be our guide. Everyone attending the tour was especially grateful for the extra time and attention we received.
From Cherril Peabody: Interest group members, please take some photos when you do something special with your group. Even if you are just discussing a book or eating healthy (or unhealthy) food, make a memory with a few photographs. When you do, please send them to me so I can incorporate a couple into the next Interest Groups newsletter article.