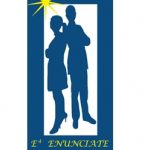 Our Speech Trek Committee is planning for the 2019 Speech Contest on Feb. 16, 2019. Students compete for four cash prizes from $50-$500. High School students in the Elk Grove Unified School District are invited to speak for 5-6 minutes in a prepared extemporaneous speech.
The topic for this year is very timely: "How can we–students, parents, faculty, our communities, and organizations such as AAUW–eliminate violence aimed at our schools? What actions can we take to prevent another tragedy from taking place?
AAUW Sacramento has been very successful over the last 11 contests. Our winners have gone on to the AAUW CA Speech Trek Semi-Finals and Finals to win all five possible places, from 1st Place ($1,500) to 5th Place ($150).
Planning for another successful competition year has just begun. We recruit high school students to compete by presenting an informational workshop on each of the nine high school campuses in the Elk Grove Unified School District. The workshop, conducted by a Speech Trek committee member, includes contest information and speech preparation materials for interested students. Committee members coach students who commit to the competition.
The contest is named after a Roseville branch member, Eleanor Stem Allen, whose family makes a large annual memorial donation in her honor. If you are interested in making a donation or in joining the committee's efforts for the contest, please contact: