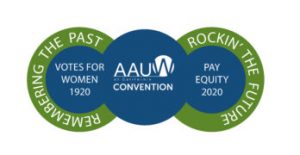 The AAUW California board and committees are working hard to bring you a convention that will energize you and your branch members. We will be celebrating the past as we look back at our fight for the vote and the legislation we helped pass, and then we will look to the future and the work still to be done.
We are all working on planning a wide cross-section of workshops, plenaries and speakers which may include:
an update on AAUW Fund
membership diversity (whether it be by age, ethnicity or sexual orientation)
civil conversations with others towards effective government
maximizing social media
fundraising
ADA requirements
partnering with young women in AAUW initiatives
encouraging young women to run for office
registering youth to vote and participate in government
Do you or your branch have an idea for a workshop, plenary or speaker?  Click HERE to submit your idea using the workshop application form, or email us at convention@aauw-ca.org.
You will also have the opportunity to complete the Work Smart program with an experienced facilitator.
There will be a chance to meet the candidates for the AAUW California Board of Directors. Directors and staff of AAUW California will be available to answer your questions. Several directors and staff of AAUW National will be there, too.
Convention details and registration information will be in the winter issue of the California Perspective and on the AAUW California website.