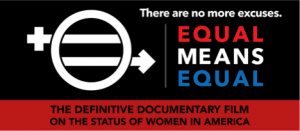 Tuesday, October 10, 2017
Community Room #1 of the Student Center
American River College,
Showings at 1 and 6 p.m.
In AAUW, we established a mission statement that says we stand for gender equity, for breaking down barriers, for opportunities for girls and women to live and work as equals with boys and men.
On Tuesday, Oct. 10, AAUW Sacramento Branch is teaming up with our sister affiliate, Citrus Heights/American River (CHAR) to provide two free showings of a documentary film that looks hard at "how women are treated in the United States today" presenting the "compelling and persuasive argument for the urgency of ratifying the Equal Rights Amendment." (equalmeansequal.com/synopsis)
Equal Means Equal (2016), a 93-minute film documentary written and directed by Kamala Lopez, will be shown at American River College, Oct. 10 at 1 p.m. and 6 p.m. Our two branches have reserved the Student Center Community Rooms #1-4 for both showings. Parking Lot A off Myrtle Avenue is the closest lot to the Student Center that is not under construction, and everyone (the public, members, with or without handicap placard) must pay the $2 fee at the Pay Station.
All AAUW members are invited along with students and faculty of ARC and the general public. A brief Question and Answer period will follow each showing. Food and drink is available for purchase in the Student Center and permitted in the Community Room.
Please register here for free via the Eventbrite button below
Parking Lot A Off Myrtle Avenue; $2 fee; see pay station
FREE & PLEASE pre-register here on Eventbrite
1:00 P.M. and 6:00 P.M. Showings