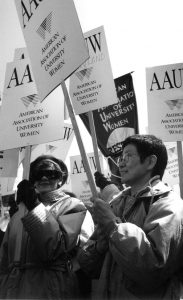 The idea that led to today's American Association of University Women was born in 1881. Oddly enough, it came from someone who was not a college graduate.
Mrs. I. Tisdale Talbot, wife of the Dean of Boston University's Medical School, was a leader in educational and philanthropic work in Boston in the 1880s. Her concern for educational opportunities for young women had been sharpened by the difficulties experienced by her own daughters in seeking higher education. Her older daughter, Marion, could find no school in Boston that offered adequate work to prepare girls for college. With the aid of private tutors, she managed to meet the entrance requirements of Boston University. However, when she had earned her degree, Marion Talbot found only the most limited opportunities to use the training she had acquired.
Inspired by Mrs. Talbot's vision, Marion Talbot and her friend and teacher, Ellen H. Richards, issued a call to all the college women they knew to meet in Boston on Nov. 28, 1881. Seventeen responded, most of them less than five years out of college, and enthusiastically prepared to formally organize the Association of Collegiate Alumnae (ACA) with a membership of 65. Jane (Jennie) Field Bashford became the first of 18 women who served as president during the period of the ACA. Their first research report was issued in 1886 in conjunction with the Massachusetts Bureau of Statistics of Labor. The report, Health Statistics of Women College Graduates, established that contrary to popular belief, women's health is not adversely affected by attending college.
Within two years, there were 356 members in nine different states. Soon members came together in local groups (branches) all across the country. In 1912, the Association divided the country in to 10 sections, later known as regions, with a national officer in each. The need for more local collaboration led to the formation of state divisions. Finally, in 1921, when the Southern Association of College Women voted to join, the name was changed to American Association of University Women.
**With excerpts from "The History of the American Association of University Women, 1881-1931" by Marion Talbot and Lois K. M. Rosenberry