Remembrances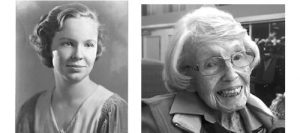 Longtime former AAUW member Dorothy Dublirer passed away in December 2017 at the age of 99. Dorothy was born in Anchorage, Alaska, and attended the University of Alaska, Washington State University, and Sacramento State University, earning teaching and school psychologist credentials. She worked as a nurse's aid during World War II in San Francisco and moved to Sacramento after the war ended with her first husband. After earning her Master's Degree, she taught Early Childhood Education at UCLA before again returning to Sacramento, where she worked for the California Department of Education for many years. In her long career, she established preschool education programs for migrant children and volunteered with the Developmental Disabilities Service Organization. One of Dorothy's many community contributions was the design of the Crooked Mile and the Swiss Cheese Wedge at Fairytale Town in Land Park.
Membership News
Please welcome new members Cecilia Delury, Maria Barajas, Vivian Khen and returning member Kathy Schrumpf, who have joined in the last two months.
At the May Branch meeting, members will be encouraged to meet and sit with other members living in the same zip code to facilitate getting to know one another. Look for these new members and others you don't know at that meeting and be sure to say hello and welcome them to the Branch. Building and retaining our membership is everyone's responsibility.
 Look for your membership renewal forms in the mail in early May. AAUW National has raised member dues to $59 from $49, effective March 16. Annual membership for National, State and .Branch dues will now be $99.