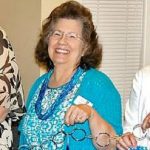 Hard to believe my first year as president has flown by so quickly! As I sit down to write this article, my first thought is this is the hardest part of the job for me. I love the newsletter. As the various articles arrive in my inbox right on time, I so admire how good they are.
We have a great branch, and I hope we continue to advance equity for women and girls with our programs and philanthropy. Some of this past year's highlights include:
Our Tech Trek girls in action during our September meeting.
Presenting "Equal Means Equal" with CHAR at American River College in October with the added benefits of:

Partnering with a sister branch, which expanded our reach and cut our costs in half.
Winning AAUW CA program recognition.

Learning the history and current importance of passing the Equal Rights Amendment.
The Deeper in Debt panel discussion at Carmichael Library.
Our annual Holiday Party, where we collected more than 300 books for Love, Talk, Read and received a fascinating education on women's history from member and Past President Carolyn Martin
January's IBC luncheon and silent auction allowed us to complete the Sacramento Branch 100th Anniversary Research and Project Grant in just five years and two months!
February brought Speech Trek at Consumnes River College. Plus we collected 35+ bags of groceries for the CRC food bank.
In March we heard from Hoang Chi Truong, author of "Tiger Fish," about her immigration from Vietnam in 1975 and making the United States home. Although this was our Author's Luncheon, it could have easily been a WOW meeting and was most relevant in our current political environment.
April's meeting on pay and salary equity was so good, I am still quoting statistics to everyone who will listen.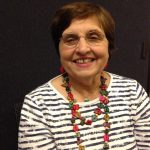 This is not even a complete list of everything we did, and so many members worked together to make it all possible. Take a look at page 8 of your directory and thank every one of those women for making all this happen. Not listed are Ashley Anglesey, Public Policy Chair, and Alicia Hetman, co-Director of Funds.
Our leaders range in age from 23 to 85, there is a place for everyone! Thanks, again. I am looking forward to year two