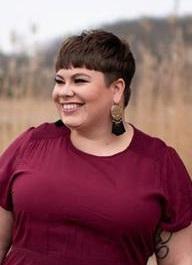 Kaitlyn Murray is a Doctoral student in the UC Davis Department of Education. She is also one of a group of women who received a grant from AAUW for a project they conceived and put into effect. What follows are her words:
"In late 2017, I joined a team of UC Davis students, staff and postdocs to create a grassroots campaign to increase opportunities for underrepresented girls in the sciences. The results of this effort, Girls' Outdoor Adventure in Leadership and Science (GOALS), was funded in part with an AAUW Community Action Grant that we are so thankful for. At the time we applied, our group had just formed. We were all at different points in our careers, and none of us had ever formed a group like this. We had no idea what we were getting into.
"Now, a year later, we can proudly say that we have accomplished so much more than we anticipated. Thanks in part to the AAUW Community Action Grant, we were able to take seven Sacramento area youth into the backcountry of Sequoia National Park, led by two UC Davis undergraduate trip leaders. The group hiked over 40 miles, spent 10 nights camping in the backcountry, participated in two community science projects identified as priorities by park scientists, and created and presented about their own scientific projects, all while engaging with science and leadership content – and all at no cost to the participants.
"This grant has had a profound impact on the lives of these seven young women, the two trip leaders, the 30+ graduate students and young professionals at UC Davis, and the National Park. This grant has helped GOALS build capacity for dozens of women – as leaders, as outdoorspeople, and as scientists."
Community Action Grants are awarded for projects that improve the lives of women and girls. Kait is now a member of our branch. Welcome her when you get the chance!