AAUW Sacramento – Empowering Women for 100 Years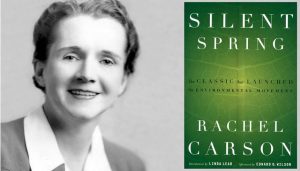 Rachel Carson's "Silent Spring" (1962) sounded an alarm that detonated a multi-faceted response to environmental degradation. This reached a crescendo in the 1970s with the passage of the California Environmental Quality Act, the federal Clean Air and Water Acts and thousands of other decisions to protect the environment and public health.
AAUW responded in 1970 with a national two-year study topic, "This Beleaguered Earth – Can MAN Survive?" After research and public policy training, Sacramento Branch members actively participated in many beneficial policies.
Can you believe it was legal to burn leaves in gutters? AAUW testified in favor of a ban, which passed. (It didn't hurt that the fire chiefs all spoke in favor of the ordinance.)
The Branch was a founding member of the Environmental Council of Sacramento (ECOS) in 1971, and members served on the Advisory Committee for the first County General Plan in 1973. A major issue was transportation, including a proposal to build a freeway connecting I-80 and Highway 50 through Del Dayo. We supported a balanced transportation system with light rail (a wild concept!). Our ECOS representative was sued by a developer because she questioned his proposal for a large housing development on what is now the Consumnes River Conservancy at a public hearing. The Branch filed a "Friend of the Court" brief, and free speech prevailed.
Branch members were encouraged to recycle at a center just south of CSUS. Of course, we advocated for a countywide curbside recycling program.
A special effort to reach elementary school students led to the creation of "Our Friends in the Garden." This felt board presentation emphasized the benefits of some insects such as ladybugs instead of insecticides. Hundreds of students were educated by AAUW volunteers.
On the state level, AAUW strongly supported the initiative to create the California Coastal Commission and testified on other groundbreaking environmental legislation.
AAUW played a very important role in environmental advocacy. We represented educated women voters who had done our "homework." We actually had elected officials calling to ask for our participation on controversial issues to demonstrate that more than environmental "hotheads" favored changes to protect our environment. We were public leaders and often interviewed and quoted in the newspapers on these issues.