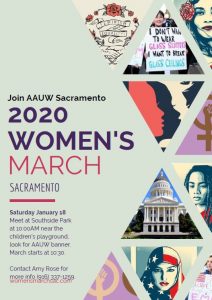 Get Ready for 2020!
2020 is nearly upon us, and it is going to be an eventful year. The state legislature will reconvene in early January, we will celebrate the 100th anniversary of women getting the right to vote, as well as the most important election in our lifetime, where issues that matter the most to us are at risk. Primary elections are coming up March 3. Now's the time to begin planning at the branch level how to address these activities in our communities. Women who vote can influence the outcome of an election!
 What opportunities should be considered?
Voter Registration. AAUW CA is well-positioned to undertake voter registration, especially with our college/university relationships. Millennial women are an important target group. Research shows that a lack of information on the candidates and a lack of policy debates on issues of importance are the main reasons some millennial women don't participate in the election process and may not even register to vote.
Voter Education. AAUW aims to increase women's political influence and educate voters on issues that are important to women and girls. These targeted efforts help increase the number of women voting. AAUW's key issues include Equal Pay for Equal Work, Investing in Education, Reducing Student Debt, Strengthening Social Security, and Implementing Paid Leave.
Women's March January 18 – Join Us!
Join us on January 18 as we #MarchForOurHumanRights in Sacramento and around the world, as we show up to #BeCounted, and to demonstrate #WomenRising! Allied in spirit with Women's March Global, we march for compassion, respect, and equity. Meet the AAUW Sacramento branch at Southside Park at 9 a.m. for a Women's Civil Rights rally and resource fair. We leave Southside Park at 10:30 a.m. with the rest of the marchers and rally on the West Steps of the State Capitol at 11:45 a.m. More branch-specific information to follow. For questions, contact Public Policy Director Amy Rose or visit the official Women's March Sacramento website.