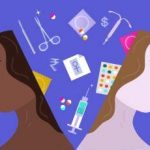 Reproductive Health for All in 2020
As American women consider action to ensure reproductive health rights in 2020, it is useful to recall that in the 17th and 18th centuries pregnancy termination was legal under common law before 'quickening' (fetal movement) that occurs approximately 16 weeks after conception.
After 1850 the crusade in the U.S. against voluntary pregnancy termination stepped up. According to Lauren McIver Thompson (author of "Battle for Birth Control …") physicians, known for irregular practice and lack of training, in order to "establish their place as respected members of society" argued about the 'rights of the unborn' – sound familiar? New York Times, December 15, 2019.
By 1900 in accord with the Comstock Act of 1873 most states had passed laws restricting termination and contraception. As a consequence, by the 1930s one report estimated that 681 thousand abortions led to 8 – 10 thousand maternal deaths.
It took a decision by the Supreme Court in 1973 to change the numbers, but the struggle continues. On Friday, Jan. 24, at the March for Life rally, the president threatened to take away California's federal funding in accord with the Weldon Amendment because of California law that ensures private insurers provide abortion and contraception coverage. The HHS department gave the state 30 days to lift the regulation, saying that the state is not compliant with the amendment. Note that four years ago federal opinion confirmed California's compliance to not discriminate against a health care facility. Yet, Kevin McCarthy (R-Bakersfield) on Feb. 21, emailed support for health care entities that don't want to supply equal legal health services to all.
After the February 4 president's State of the Union speech, there is no doubt women must continue to advocate for reproductive health rights – especially for black and Native American women who have far higher pregnancy-related mortality rates than white women. Of 15 policies suggested by the National Partnership for Women the most important: access to all forms of abortion care and contraception regardless of where you live.
This past February, two bills were voted down in the U. S. Senate:
 to institute a 20-week abortion ban and
to require medical care be delivered to infants that survive abortions, a misleading bill, given that infanticide is already a crime.