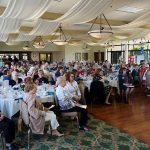 Our Saturday, February 29, 100th Anniversary party was such an amazing success.  Gloria Yost and Linda Whitney worked for over two years with a committee of changing size and membership to provide historical articles and a very well-planned, entertaining, warm and welcoming party.  From Mary Schneider's dramatically beautiful table centerpieces to Carole Cline's funny and timely skit, Jean Brown and Vicki Nicholson's reformed Musettes with their enthusiastic songs accompanied by Mary Williams, to AAUW CEO Kim Churches energetic and interesting presentation, the program looked back and looked forward at our AAUW Sacramento Branch, at what we have accomplished and contributed, and to where we go from here.
Cherril Peabody and her committee created four pleasing and informational displays of Sacramento's outreach programs and a fun slide show loop of great memories.  Anna Storey and her committee created the wonderful memory book of photos and articles for us to enjoy and keep as a memory of the day.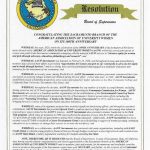 We want to share with all our members the Resolution we received from the County Board of Supervisors, the Certificate and letter from AAUW (click here for the second page) and Kim Churches and also a note of congratulations from the Woodland Branch.