Great Decisions Interest Groups By Kathy Schrumpf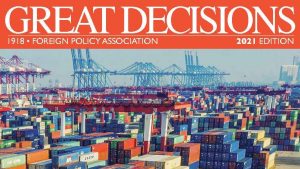 Our Great Decisions groups discuss one article a month from the Foreign Policy Association book. A new book is published every year with timely articles on today's world issues and US foreign policy.
We normally order books for the next year in October at a discounted rate of about $30.  Normally, our first meeting of the year is in January for book distribution and volunteering to either host or lead a discussion.
The Foreign Policy Association offers well-researched articles, providing an excellent way to review your geography and history. The topics make reading the daily newspaper even more fascinating. Some issues we have discussed this past year include Brexit and the EU, the Arctic, and China in Africa.  We will discuss the response of the World Health Organization in our current crisis of COVID-19 later this year.  We are awaiting the publisher's release of topics for 2022.
The branch currently has three Great Decisions groups: Group I meets at 7 p.m. on the third Monday, February through October (contact Cathy Locke); Group II meets at 7p.m. on the second Thursday, with a January organizing meeting, and meets February through October with a break in July (contact Lynn Wood); Group III meets at 1p.m. on the third Monday, with an organizing meeting in January and gathering February through November, with a break in July and August (contact Kathy Schrumpf). Contact information for all group leaders can be found in the Membership Directory.  Most meetings this past year have been via Zoom, but we hope to gather in a member's home in the future.