Interest Group: Film Fans By Cherril Peabody
The Film Fans interest group has been active since the mid-2000s. Until COVID-19 struck, on the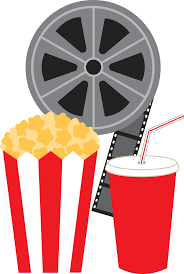 third Tuesday of each month our members met at the Tower Theatre or some other local theater to see a movie matinee together. Then, those who had the time got together nearby afterward to have lunch or a snack and talk about the movie and whatever else came up! It's a very friendly group, and we always have had a lot of laughs. Since March of last year, we have been meeting on Zoom, but last month we ventured out in person again, though we still met on Zoom as well.
For our Zoom get-togethers, we choose films that are available on Netflix and watch them on our own and then discuss them on our traditional third Tuesday morning on Zoom. To choose the film or films we will see, I come up with several suggestions that I think the group would enjoy, and those who plan to participate vote on them. Members can suggest another film if they like, providing that it is available currently on Netflix. We like independent movies and foreign films a lot, so I often suggest those types of films. When we attend in person, our criteria for movie selection include the time and the place the film will be shown.
We stuck our toes back in the water with our recent in-person attendance to view the new version of "West Side Story," which we all enjoyed, and we even went to lunch afterward. I expect we will be organizing more in-person screenings in the coming months, though of course it all depends on how Omicron plays out.
If you are interested in getting on the email list for the group, send me an email to me (contact information for Cherill Peabody can be found in the Membership Directory).  We have around 50 people on the list, but most of them don't participate frequently, particularly since we have been on Zoom. We have a core group now of about six members who attend often on Zoom. You are welcome to join us whenever you can.