Membership – December Update By Donna Holmes and Marty McKnew
One-third of our membership participated in our all-inclusive Holiday Party in December!  This was our first in-person event since February 2020 and it was lovely.
Members are the branch and together we change the world.  Membership directors are automatically on the Program Committee plus other non-board members who volunteer.  With Kim Rutledge's leadership, we work out a plan for the year and who will work on each program.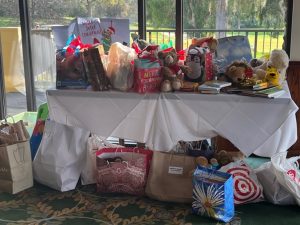 At our December program we try to support another group in need, and this year we chose the Afghani refugees served by the Highlands Community Charter School.  We also learned about other cultures and their holiday observances.
The program team was made up of Bonnie Penix, Shari Beck, Gloria Yost, Barbara Smith, Jan Stuter, Kim Rutledge and Donna Holmes, with technical support by Karen Burley.  In total, 68 members made this event a rousing success.  The photo shows gifts collected at the holiday luncheon that made more than 100 children very happy.  Remember, membership is all of us — no one has to carry the whole load.  When you can, volunteer, take a chance to join a committee, interest group or even the board.  Together we are advancing gender equity for women and girls through research, education and advocacy.
Join us on Jan. 29 at the IBC Zoom meeting to hear from three fellows who received part of the $5M given out by Association this past year.
Happy New Year!
-Donna Holmes & Marty McKnew