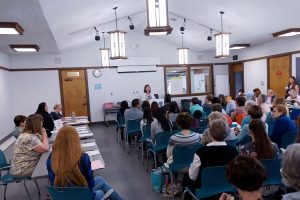 The Showcase meeting on September 23rd was very well attended (see the photo), but there was so much to see, hear and do that not very many members signed up for new interest groups. The following groups will still welcome new members: Art & Architecture, Board Games (Day and Evening groups), Film Fans, Great Decisions III, Readers Theater, Scrabble Just for Fun, Singles Dining Out and Travel. Couples Dining Out can take one more couple and both bridge groups will welcome substitutes. You can check out the Interest Groups Meeting Schedule in Capital Ideas for days and times the groups regularly meet.
We have had a few people sign up for two new proposed interest groups: Political Action and Chamber Music (attendance at concerts), but we need at least as few more prospective members for each and we especially need members who are willing to chair these groups. The new groups would have to be approved by the board, but they won't be presented until sufficient membership and leadership has been established. The meeting day and time for each group is to be determined. For more information about the proposed groups contact Cherril Peabody at capeabody@comcast.net.
Some book groups also are accepting new members. For information about book groups see the book group schedule in Capital Ideas and contact Linda Cook at lindacook5833@comcast.net.