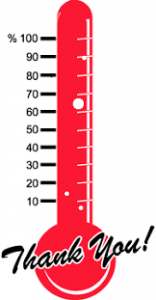 Our 100th Anniversary Research and Projects Grant is complete! What had seemed nearly impossible in 2012 came about two years early. Now when we celebrate our anniversary in 2020, we may even have our first grant recipient(s) to celebrate with us. We can thank Marty McKnew for the idea of the grant as a way honor our great age. She and Donna Holmes, co-funds directors at the time, convinced a nervous board to go along. Papers were filed in November 2012, and the grant was established with $5,000 from branch reserves.
The rest of the $75,000 needed came through a campaign by Marty and Donna to educate the membership about funds. They also called upon their contacts in other branches, which led to at least $23,000 in donations from those branches. Many thanks to them all! Nancy Lawrence and Ruth Burgess took up the cause in 2015 and approached Sacramento Branch past presidents, asking them to lead the branch by pledging what they could as an annual donation for five years to make the 2020 completion goal. In the end, branch members rose generously to the call, and it only took three more years.
Can we do it again?
Now that the Anniversary Grant is complete, what's next? We have one more unfinished fund, and that's the Alicia Hetman R&P Grant. Can we complete two in one year?
For those who don't know her, Alicia (my co-Funds Director) was AAUW-CA president 2012-14, and it is for this that she was awarded the R&P grant. She has an extensive and significant background in AAUW, from branch positions to state and national boards. Among other branch responsibilities, Alicia was twice president of the Marysville-Yuba City branch. She served AAUW-CA for 26 years, and served as public policy director and Educational Foundation VP before going on to be president. She also served many years at the national level as a member of various committees, as well as the Educational Foundation Board of Directors before it was melded into the national board, where Alicia was vice chair. Many of you know she was a candidate for President of AAUW last year. Health issues caused her to cut back her campaign and she failed to be elected.
Outside of AAUW, Alicia taught elementary school with specialist credentials in handicapped learning and training in gender equity, which was helpful for AAUW-CA's programs, as well. Eventually, her work for AAUW-CA led to a job with the California Department of Education to implement the provisions of a bill on gender equity in education sponsored by AAUW. Since she joined in 1975, Alicia has contributed to AAUW with mind and heart. You'll have a chance to support her grant when you renew your dues.